(Preview of Coming Attractions)
Artist's Statement
I like to think of this site as a virtual art gallery - a place where art freaks, cartoon nutcases, iconoclasts or curmudgeons of all stripes are welcome.

To wander around, please click a button (above) to drop in on my books, political cartoons, drawings, watercolors, acrylics and other ephemera.

And don't forget what the old timers used to say,
Ars longa, Bucko, vita brevis!

Thanks for stopping by.

Mike Dater, prop.
P.S I give generous discounts (if you're nice)
Info to buy stuff
For more details to make any other purchases, please click here (and once there scroll down a bit).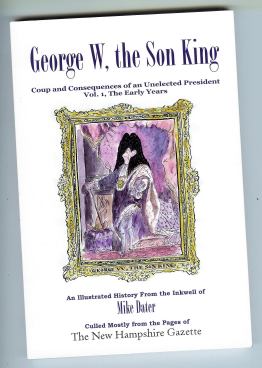 George W, The Son King is a short history of the Son King's catastrophic mess in political cartoons cum commentary; essentially equal parts critique, history, lampoon and indictment of Bush & Co. and its egregious mugging of America. Most of the cartoons in the book first appeared in the feisty The New Hampshire Gazette. The pithy insights accompanying the illustrations are all new.

The nitty-gritty: paperback, about 196 pages, $15.95 plus $4.00 shipping and handling (about the price of a large pizza, but a lot healthier).

For INFO on the book, please click MIKE'S BOOKS or INFO TO BUY STUFF buttons, above here then scroll down the page a bit.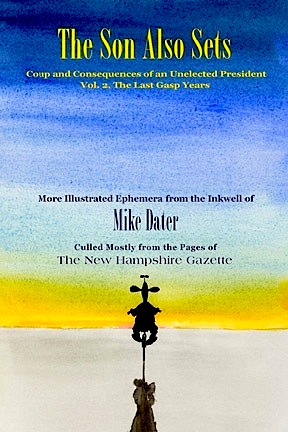 The Son Also Sets is continuation and a blessed wrap-up of the Great Dark Age we all lived through under the direction on Fort Bush. Like its predecessor, George W, The Son King, it is a compilation of cartoons and wise-assery. (To order, please see the notes for George W, The Son King or click the buttons on the top of the page. Thanks)

The Nitty-gritty - paperback, $11.95, 130 pages, $4.00 for shipping and handling, plus one or two typos thrown in for free.



Membership


The New Hampshire Art Association (NHAA)
Graphic Artists Guild (GAG)









---
| Return Home | Info to buy stuff | Political Cartoons | Golden Oldie Toons | A Bit of the Whimsical | More Artsy Stuff | NEW!! Non-Political Toons | Mike's Books | Contact Mike here | Brief Bio, & FAQs. |